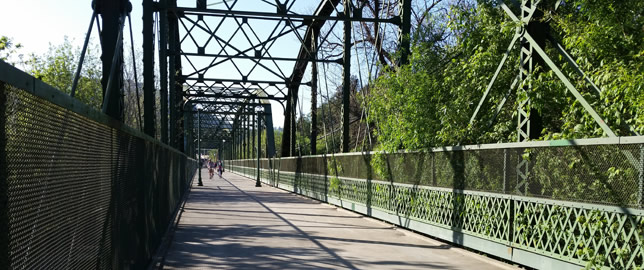 Berkshire Hathaway HomeServices Sonoma County Properties (formerly) Prudential California Realty has been #1 in West Sonoma County Sales every year since 1994... averaging 35% of the market share for the Russian River Valley. What does working with the #1 Real Estate office mean for you? If you're a SELLER... more advertising, more buyers and probably the highest possible price for your home. If you're a BUYER... access to a greater variety of properties than any other real estate office can provide, first-alert notice of upcoming listings and, of course, the best agents in the business.
Our Offices
Conveniently located in the heart of Guerneville, our offices are fully equipped with state-of-the-art computer and communication systems... with instant access to all the Multiple Listing Services, public records search services and many other helpful tools that our agents utilize to better serve you.
We also have full-time staff in the office answering your calls and ready to accommodate all your needs. They'll help coordinate meetings, set schedules, respond to your requests when your agent is not available and are your personal couriers to ensure the timely processing and delivery of all your documents.
World-Class Brand
Finding an experienced and knowledgeable professional to manage the marketing and sale of your home can be a difficult and time-consuming process. Here at Berkshire Hathaway HomeServices Sonoma County Properties we understand that your home isn't just a treasured part of your family's history, it also represents a very significant investment. That is why it's essential to have the power of a world-class brand in your corner.
Berkshire Hathaway HomeServices Sonoma County Properties stands for strength, integrity and trust. We would like to show you how we plan to leverage the considerable business strength and unparalleled marketing advantages of Berkshire Hathaway HomeServices Sonoma County Properties, to provide you with a real estate transaction experience that is as effective, efficient and enjoyable as possible.
Luxury Collection
Our market knowledge, commitment to service and technological expertise will afford you marketing advantages that no local firm or international competitor can hope to match. Berkshire Hathaway HomeServices Luxury Collection grants us access to the most up-to-date marketing tools, as well as connections to thousands of respected Luxury Collection Specialists, along with their extensive networks of affluent clients. Quite simply, high-end real estate deserves to be represented by an expert who specializes in the luxury market.
Our Agents
All of our staff members are high caliber professionals with extensive experience and knowledge about the Russian River and Sonoma County real estate market. Our agents come from diverse backgrounds but all are dedicated to providing the highest quality service to our clients. Meet Our Agents!